You can have a sendspace DropBox
You can create a DropBox to put on your website so that others can upload directly to your account. This feature is ideal for individuals and businesses who need to receive files - it's like having a virtual postbox! The DropBox lets people upload to a specific folder in your account. If the folder is private, the uploaded files are only accessible to you. The uploader is not given a file download link - instead they are informed the file has been delivered. You have the option of being notified by email every time a file is uploaded through the DropBox into your folder. If you are a business, for example, clients can upload files to your account and you may download or distribute them as you wish.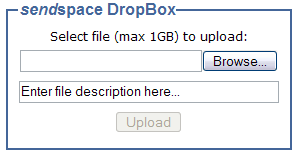 If the selected folder option 'shared' is set, uploaded files are visible instantly to all who have access to the shared folder. You do not have to send out links to your friends every time a file is uploaded. Now a group of friends or colleagues can upload and share files in your own file-sharing community.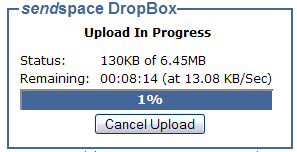 The DropBox can be color customized to blend with your site. All you need to do to add the DropBox to your site is add a few lines of code that we provide. You can also specify a domain name to stop the DropBox from being used on other sites.
Create Your Own DropBox Page
If you prefer, or do not have a website to use a regular DropBox, you can create a special DropBox Page, hosted on sendspace. You provide the link to others, and they are directed to your special DropBox Page. Users upload directly into your account, just like a regular DropBox.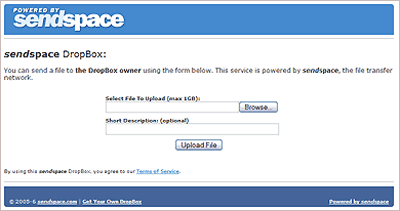 When the upload is completed, the user is informed that the file has been delivered. They are not given a file download link. You have the option of being informed every time a file is uploaded through your DropBox Page. sendspace members can customize the page by using their own logo and text.
Where do I sign Up?
The DropBox service is available to our premium members. You can join sendspace as a premium member from just $8.99 a month! We offer two types of membership, called sendspace Pro™ and sendspace Business™, combined under the term sendspace Premium™. Essentially, sendspace Pro™ is tailored towards the individual, sendspace Business™ is designed for the professional or business user.
sendspace Business™
sendspace Business™ is ideal for your business needs. By deploying the sendspace Business™ content delivery solution from sendspace, businesses can enjoy worry-free file distribution that is easy to maintain, while their employees are free to concentrate on more important business matters.

sendspace Business™ improves employee-to-client distribution of content at optimized network bandwidth prices. Businesses can transfer large files worldwide to employees, partners, suppliers and customers with ease, including content such as videos, presentations, conference materials, and ISO-images for training and demonstrations. Harness the power of sendspace for your business - See our Premium plans.
sendspace Pro™
sendspace Pro™ is the ideal way for individuals to share files. sendspace Pro™ uploaders can create folders to manage and share their files and sendspace Pro™ downloaders can enjoy multiple downloads with resume and accelerator support. See our Premium plans.